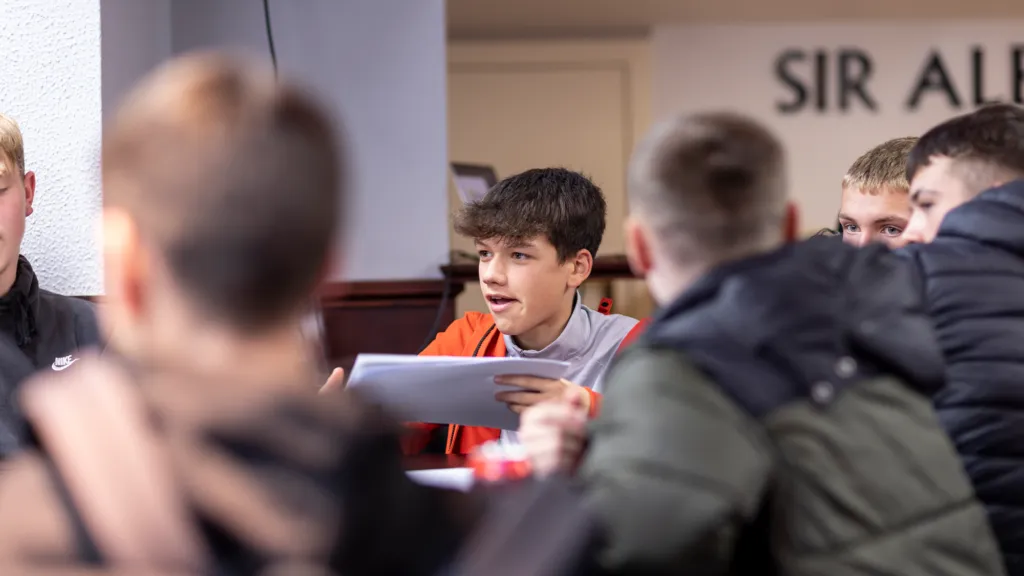 Education

&

Positive

Destinations
Working in primary and secondary schools across the Northeast of Scotland, we use the power of football and the passion for Aberdeen FC to encourage pupil engagement in the classroom and beyond.
EDUCATION & POSITIVE DESTINATIONS
Complimenting the Curriculum for Excellence, we work to support numeracy, literacy, STEM subjects and through our innovative MINDSET programme, we look to crucially support mental wellbeing. In the years ahead we will continue to work towards closing the poverty related attainment gap, and to support young people with mental health challenges. Working in youth based and employability projects we provide a pathway beyond school to develop life skills in support of future destinations.
AFCCT staff are key role models, promoting positive behaviours and supporting all areas of wellbeing: physical, social, and emotional. By developing positive relationships, the Trust encourages young people to engage in education, supporting a variety of subject areas.
Our work is proven to: increase pupil attendance; improve pupil engagement in education and prepare young people for positive destinations after school.
MINDSET is a 12-week play-based programme focusing on a positive approach to mental wellbeing. The initiative improves mental wellbeing amongst pupils aged 10-14, helping break down the stigma around mental health. In Aberdeen City, every S1 pupil in three city secondary schools completed MINDSET with a total of 1,588 participants across Primary and Secondary schools in Aberdeen City and Shire completing 15,900 hours of sessions.
POSITIVE DESTINATIONS
The Youth Ambassador programme,  supported by The Brighter Futures fund, gives young people the chance to gain essential life experiences, skills,
and qualifications. We are able to prepare young people for life after school through goal setting, skills development, work experience and volunteering.